People, not place, make a church. We are blessed to have so many great people participating in the mission of our church. Consider your place among us. We love to see new faces at Sunday services, classes and special events.
Joyful Christmas Party
Working together to give the building a face-lift
Public Demonstration of Mediumship at The Irving Theater
October 2016
Photo courtesy of Daniel Axler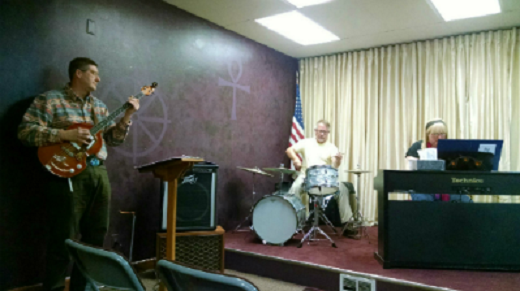 Rockin' It!
Our Vision Statement:
We are a loving community of Spiritualists dedicated to enlightenment, healing, and service to all.
Our Mission Statement:
Progressive Spiritualist Church provides an open, welcoming environment for seekers to explore and experience their connection to the Divine through worship, education, healing and spirit communication.
Reverend Margee Jaeger - Interim Pastor
Rev. Margee was ordained as a Spiritualist minister in October, 2018. She has graciously stepped in as our Interim Pastor while Progressive Spiritualist Church creates its new vision and prepares for its future.

The current Board of Trustees are:
President, Rev. Don Treadwell
Vice President, Rev. Tracy Gough
Treasure, Rev. Kandy Kendall
Secretary, Jacqueline Elliott

Trustees:
Sandra Russell
Tracy Fiddler
Audra Boarman
Marilyn Ferguson
Ann Shaver
Our Church History
Progressive Spiritualist Church of Indianapolis received its charter (No. 29) in 1913 from the Indiana State Association of Spiritualists. Services were held for many years in the church building located at Park Avenue and St. Clair Streets, (the site of the Phoenix Theatre) during which time the organization became incorporated under the laws of the State of Indiana.
On September 13, 1927 the First Spiritualist Church of Indianapolis and Progressive Spiritualist Church consolidated to form a single church to be known as Progressive Spiritualist Church. The church moved to new quarters in 1968 at 3721 North Delaware, remaining until 1974 when space at 1008 West 64th Street was leased. In the spring of 1976, Progressive Spiritualist Church purchased the building at 6225 Carrollton and converted it for church use. In April of 2010, the building on Carrollton was sold and in May the church held its first services in its new/current home at 2201 E. 54th Street.
In October of 2013, Progressive Spiritualist Church celebrated its Centennial. We are looking forward to and planning for another great century!