People, not place, make a church. We are blessed to have so many great people participating in the mission of our church. Please consider your place among us. We love to see new faces at Sunday services, classes and special events.
Reverend Don Treadwell - Pastor

Don is an ordained New Thought minister. He is a graduate of the King School of Ministry (1986) and of the Advanced Studies Program of Unity School of Christianity (1988). He is a recognized Clairvoyant, Intuitive Counselor, Trance Channel and Tarot Reader. He studied with the Universal Spiritualist Association which granted him certification as a Healer and a Deacon. He also studied with the Indiana Association of Spiritualists at Camp Chesterfield. He was ordained by Progressive Spiritualist Church in 2015.
Rev. Don is our Sr. Pastor. In this role, he works closely with our Ministerial Team to grow and support our spiritual community. We are committed to creating a safe spiritual space where all are welcome, accepted and treated with respect.
Vision Statement
We are a loving community of Spiritualists dedicated to enlightenment, healing, and service to all.
Mission Statement
Progressive Spiritualist Church provides an open, welcoming environment for seekers to explore and experience their connection to the Divine through worship, education, healing and spirit communication.
President: Rev. Margee Jaeger

Vice President: Cher Stonestreet

Treasurer: Colleen Kelly

Secretary: Kate Hinman
Trustees:
Laurie Callahan

Jason Kish

Annamarie Melodia

Shirley Morey

Rev. Ann Shaver
The Ministerial Team at Progressive is blessed to be a group of ministers, mediums, teachers and friends who work together to provide support and council to our members.
Rev. Don Treadwell, Sr. Pastor, Ordained Minister, Certified Medium

Rev. Maria Celeste, Ordained Minister, Certified Medium

Rev. Tracy Gough, Ordained Minister, Certified Medium

Rev. Margee Jaeger, Ordained Minister, Certified Medium

Rev. James Lasher, Ordained Minister, Certified Medium

Rev. Harley Schultz, Ordained Minister, Certified Medium

Rev. Ann Shaver, Ordained Minister, Certified Medium

Hoss Hostettler, Certified Medium
Progressive Spiritualist Church of Indianapolis received its charter (No. 29) in 1913 from the Indiana State Association of Spiritualists. Services were held for many years in the church building located at Park Avenue and St. Clair Streets, (the site of the Phoenix Theatre) during which time the organization became incorporated under the laws of the State of Indiana.
On September 13, 1927 the First Spiritualist Church of Indianapolis and Progressive Spiritualist Church consolidated to form a single church to be known as Progressive Spiritualist Church. The church moved to new quarters in 1968 at 3721 North Delaware, remaining until 1974 when space at 1008 West 64th Street was leased. In the spring of 1976, Progressive Spiritualist Church purchased the building at 6225 Carrollton and converted it for church use. In April of 2010, the building on Carrollton was sold and in May the church held its first services in its new/current home at 2201 E. 54th Street.
In October of 2013, Progressive Spiritualist Church celebrated its Centennial. We are looking forward to and planning for another great century!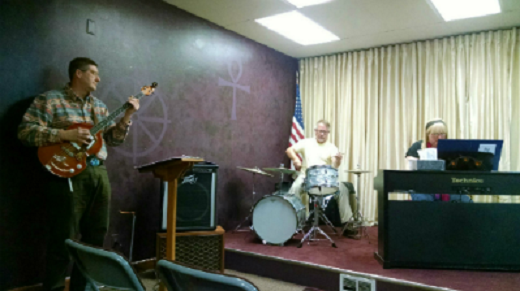 Public Mediumship Demonstration